New Year, New Ideas, New Actions
January 20, 2023
Notes from the Council | January 2023
We are entering 2023 amid uncertain economic conditions. Yet, businesses are increasingly innovating practices around environmental and social issues, not just because the public expects it, but because the market demands it. It is my hope that 2023 will be the year that an inclusive capitalism is recognized as a business imperative. In order to succeed in a free market, companies must create value for society and protect our planet to be viable over the long term. Companies are making strides in developing strategies and taking action to operate in ways that lead to more inclusive and sustainable economies, but much work lies ahead.
Simply put, businesses can't afford the risk not to act. Anyone can produce profit but doing so in ways that strengthen economies and societies is simply business at its best, and that is what is so inspiring to me and to Council members.
This year, the Council for Inclusive Capitalism will bring new ideas, resources, moral leadership, and expert guidance on topics like corporate political responsibility, second chance hiring, living wages, social disclosures, financing a just transition, and more. We are expanding our roster of partners and advisors to connect our community with the practitioners, peers, and expertise to make progress on their commitments to inclusive capitalism. If you have issue areas you would like to hear more about, ideas to share, or commitments to make or update, reach out to us.
It is up to us as members of the Council for Inclusive Capitalism to show that profit can be made in ways that also bring value to people and planet. With nearly 400 members in our growing community of business and public sector executives, this year we will share more ideas, commitments, and resources to inspire leaders and catalyze action around the world to put inclusive capitalism into practice. If you are new to inclusive capitalism, I invite you to join us, make a commitment, and share your work with our community. We are building the most comprehensive platform of inclusive capitalism business practices and resources available, and it is my hope that you gain inspiration from each other.
Looking forward to a productive year,
Lynn Forester de Rothschild
Founder and Co-Chair
---

View more than 65 company actions to support UN SDG #4: Quality Education
---
Moral Imperative: The Church of England announces investment in communities impacted by slavery
There is both a moral and market imperative to act for a fairer, more just, and inclusive economy. The Council receives guidance from moral and ethical leaders, including the Church of England, which is showing by example what can be done with responsible investment to begin to address past wrongs and current inequalities.
This month, the Church of England Church Commissioners published a full report into the historic links between its endowment and the transatlantic slave trade. In response to the findings, the Church Commissioner's Board is committing to try to address some of these past wrongs by establishing a new ₤100 million impact investment fund that will target communities affected by historic slavery. Last year, the Church acknowledged formally for the first time that the Church Commissioners' endowment, a ₤10 billion investment fund supporting mission projects, administrative costs in low-income areas, and pensions, had historic links to the transatlantic slave trade.
"I am deeply sorry for these links. It is now time to take action to address our shameful past," said Rev. Justin Welby, Archbishop of Canterbury and the Chair of the Church Commissioners. "Only by addressing our past transparently can we take the path that Jesus Christ calls us to walk and face our present and future with integrity."
As the new fund grows over time, the Church hopes it will create a lasting positive legacy, creating new opportunities in perpetuity for communities impacted by slavery. The Church Commissioners will continue to use its voice as a responsible investor to address and combat modern slavery and human rights violations, and to seek to address injustice and inequalities. Additionally, they will continue their research into the Church Commissioners' history, supporting dioceses, cathedrals and parishes to understand and address their historic links with slavery, and will share best practice with other organizations for researching their own slavery legacies.
---

Market Imperative: Increasing forest friendly investment opportunities in the Amazon Rainforest
The Council for Inclusive Capitalism recently sat down to talk about regenerative investments in the Amazon Rainforest with Carolina Suárez, CEO of impact investment community Latimpacto, which seeks to co-create valuable opportunities for investment in the people, businesses, and ecosystem services of the Latin American region.
"Latin America is a region full of opportunities, and by establishing more connections and contributing cutting-edge knowledge, we will be able to respond more strategically to the enormous social and environmental challenges facing us," she says. The Council for Inclusive Capitalism spoke with her in December about Latimpacto's latest initiatives. Read an excerpt of the conversation below, and click to read the full article on our website.
Q: What are some of the unique challenges impact investors in the Latin American region face?
A: Impact-driven investors are crucial in addressing pressing social or environmental problems where no commercially viable solutions are available or market rules prevent early-stage entrepreneurs from accessing them.
Latin America faces macroeconomic challenges such as devaluation and high interest rates, which make it difficult to generate returns and raise capital, directly affecting impact investors.
In response, Latimpacto encourages the design of innovative financial instruments to meet society's challenges. We promote investments along the capital continuum to leverage different financial tools, combining grants, debt, and equity in multiple investments within the impact-driven investors' portfolio to achieve a more profound social impact and, in turn, find key partners and collaborators who are willing to join in investing in that capital continuum. Collaboration is vital. For that reason we are orchestrating new philanthropic funds to create real models that respond to some crucial themes for Latin America such as STEAM and Pan Amazonia.
Q: Latimpacto has now created a program to work in the Amazon, could you tell us more about this?
A: The Pan Amazonian Impact Ecosystem Program calls attention to the Amazon as an interconnected, vibrant region and will build a movement that fosters comprehensive and impactful progress. Our goal is to create open-sourced Funds using different innovative vehicles to support the nexus between the protection of the biodiversity in the region and the well-being of the communities inhabiting the Amazon, who have always acted as guardians of the rainforest.
The purpose is to make social and environmental investment more effective in the Amazon region, increase the involvement of local sources of impact capital, and foster a more strategic relationship with international ones. We also aim to support the Local Amazonian Impact Ecosystems by following and adapting the model and learnings from the more advanced Brazilian Amazon Impact Ecosystem.
All the learnings we extract from these approaches will be shared with the Program members and the whole Latimpacto community.
---
How companies can make the energy transition work for people and planet
In an opinion published in Reuters, Council for Inclusive Capitalism CEO Meredith Sumpter explains how members of the Council are putting its private sector guide to the just transition into practice.
"Confronting climate change and creating a more sustainable and inclusive global economy presents a tremendous opportunity, including in the near term. [But] if we transition to clean energy without concurrently acting to address the transition's negative impact on society and economy… the energy transition itself will be at risk.
"We need climate action anchored in the needs of people and our communities, and the private sector has a key role to play in contributing to this global shift.
"Many Council for Inclusive Capitalism members are already showing what a just transition looks like in practice. Take Japan's Suntory, a global leader in the beverage industry working to develop Japan's largest 16 megawatt (MW) green hydrogen power system at one of its facilities. The company plans to use the energy produced as fuel for its facilities, as well as in surrounding communities.
"As part of the Climate Innovation for Adaptation and Resilience Alliance, PayPal is supporting the development of a fintech innovation ecosystem by 2030 to help vulnerable populations build resilience in the face of climate change."
---
⚡ Steward Action: Godrej targets greenhouse emission reductions
As one of the largest haircare and household insecticide manufacturers in emerging markets, India-based Godrej Consumer Products Ltd takes seriously its responsibility to stakeholders beyond financial performance. By 2035, they aim to reduce their scope 1 and 2 emissions from direct operations and purchased energy by 63% from a 2020 baseline. Further, they plan to reduce scope 3 emissions from their suppliers in the next five years, asking them to take up science-based targets for emission reduction.
According to their commitment included in the Council for Inclusive Capitalism's public platform for company action, Godrej will continue to adopt cleaner fuels such as solar and biomass and improve process efficiencies to reach their goal. Today, 54% of their energy is sourced from renewable sources.
Sustainability action is not new to Godrej. In 2010, they laid out a sustainability vision that made the company "look inward at our operations and processes, and outwards at our ecosystems, supply chain and communities." Click below to read more about their strategy for building a "Good and Green" company on Godrej's sustainability website.
---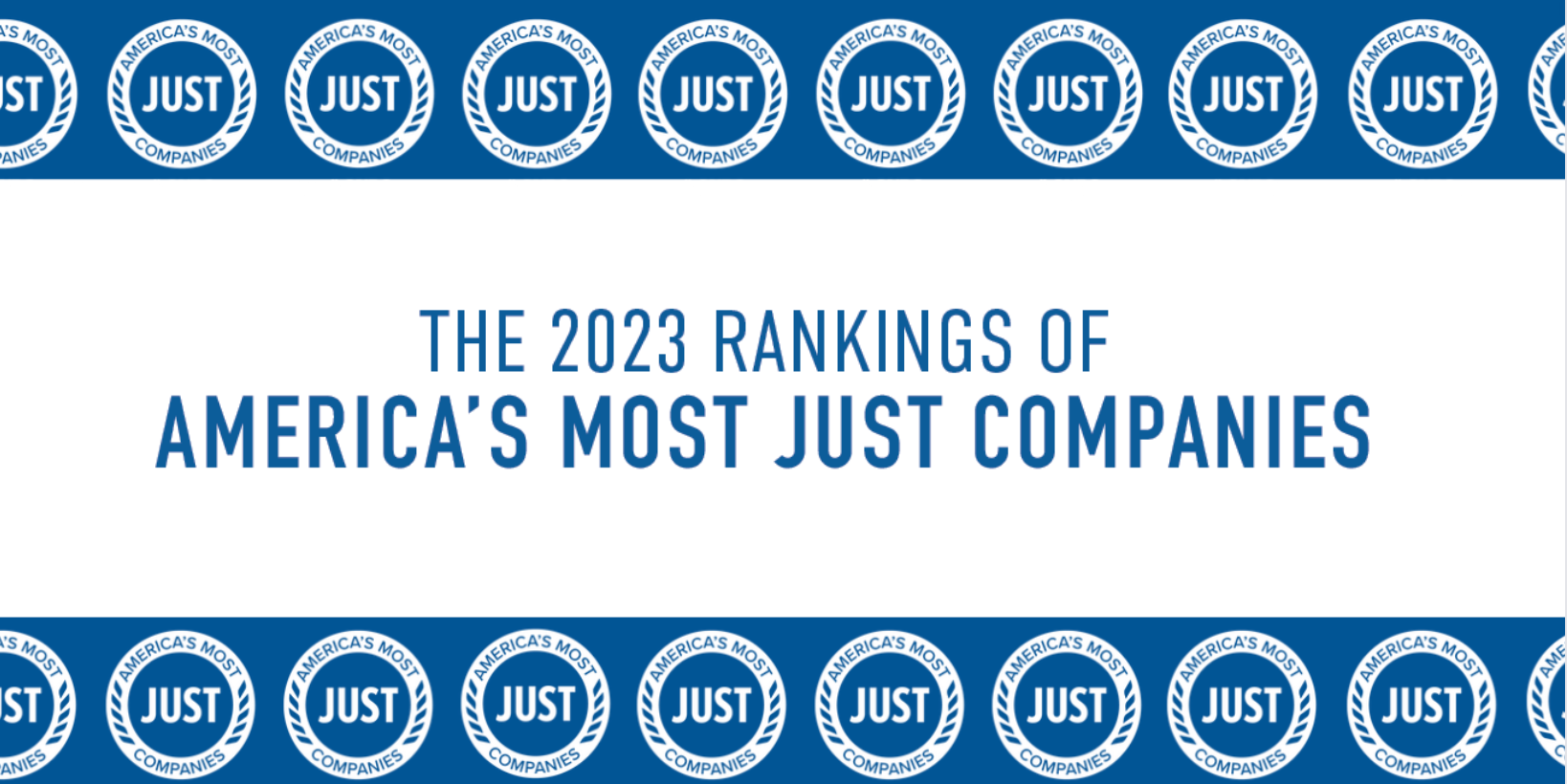 🏅 Ally Resource: JUST Capital releases "JUST 100" company rankings
Council Ally JUST Capital and CNBC just released their 2023 annual list of America's Most JUST Companies. The rankings, with the top 100 known as the "JUST 100," recognize how well the largest businesses in the United States perform in behaviors the American public cares most about, including job creation, wages, workplace safety, and profits.
Council for Inclusive Capitalism founding member and Steering Committee leader Bank of America earned the first-place ranking for 2023, the first bank to ever top the list, "because they've been a trailblazer on worker issues," JUST Capital writes. "Bank of America raised its minimum wage to $22 an hour and committed to $25 an hour by 2025. It's invested millions in career development and tuition assistance, offers 16 weeks of paid parental leave for both primary and secondary caregivers, and provides flexible work scheduling and backup dependent care."
Nine other Council Stewards earned high rankings in the top 101 companies. They are: Verizon, Salesforce, Mastercard, Merck, PayPal, Visa, IBM, AT&T, and Johnson & Johnson.
Click below learn more about how the index is produced and to explore the complete Rankings, with detailed breakdowns for each stakeholder metric, on the JUST Capital website, and find links to CNBC's multimedia coverage at cnbc.com/just100.
---
Welcome New Council Members
Helen Young Hayes
Founder and CEO, ActivateWork
Pelin Akin Özalp
Board member, Akfen Holding
Nicholas Sokol
Founder, Algaeo
Iñigo Orvañanos
CEO, Comvive
Johan Franzen
Founder and CEO, Entnest
Justin Schwartz
Managing Partner, IMPAQTO Capital
Akira Nakahara
CEO, Imperative 21
Romy Cahyadi
CEO, Instellar
Sebastian DiGrande
CEO, Plastic Credit Exchange
William Barber III
Founder and CEO, Rural Beacon Initiative
Vijaya Balaji
Founder and CEO, Social Lens Consultancy Ltd
Adolfo Romero
Founder and CEO, Tecporio Innova Group
Maya Kuppermann
CEO, temelio
---
📰 Inclusive Capitalism in the News
Ford Foundation | Darren Walker: Philanthropic leaders join Biden-Harris Administration initiative to advance global democracy by investing in worker rights
McKinsey Podcasts | Mark Carney: Turning commitments into action on the 1.5⁰ pathway
Bank of America | Brian Moynihan: BofA provides nearly $19 Million to local hunger organizations from employee COVID booster campaign
Sustainable Future News | Meredith Sumpter, Council for Inclusive Capitalism: On profitability that creates value for all
SSE | Alistair Phillips-Davies: SSE Thermal charts path to green hydrogen future with first-of-a-kind project
Forbes | Pillar one of the path to inclusive capitalism: Incorporate diversity, equity, and inclusion into governance
Inc. | ESG isn't what you think. And it's not going away.
The Herald | Dr. Akinwumi Adesina: Africa's energy, food security must be top priority
MIT Sloan Management Review | Erb Institute's Thomas Lyon, Elizabeth Doty, and Andrew Winston: The importance of corporate political responsibility